---
Stunning video posted online this week appears to confirm reported 'rumors' that China-loving Canadian Prime Minister Justin Trudeau, a 'graduate' of the globalist World Economic Forum's Young Leaders school, used UN troops to tyrannically put down the "Freedom Convoy" protest in Ottawa.
Previously, as Natural News reported, Canadian 'police' were photographed wearing uniforms that did not have name tags or badge numbers, meaning they were totally anonymous even as they violently confronted and arrested truckers and their Freedom Convoy supporters over the weekend.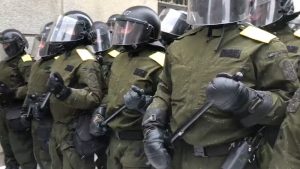 Now, according to video clips posted at Sons Of Liberty Media, Canadians have confirmed that UN-marked aircraft have landed at nearby airports, lending more weight to the previous reports of UN troops on Canadian soil at Trudeau's request.
"I wonder where all those cops in Ottawa came from," says a man taking the video, adding that there is no snow on the plane though it has been snowing in the area for days.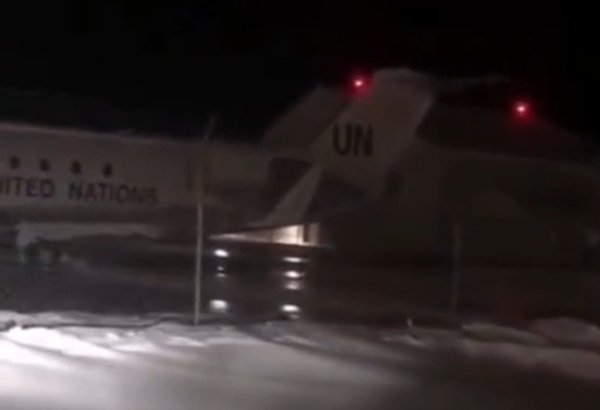 "Perhaps this is the reason that the goons in Ottawa on Saturday had no badges or names on their uniforms and were demonstrating their cruelties to peaceful protesters," Sons of Liberty Media speculated, adding: "It may also be why Nazi traitors in the RCMP are encouraged in their own tyrannies against their own people, as reported on Saturday when members of the RCMP applauded the trampling of an older woman and others with horses ridden by RCMP thugs."
"Be aware, these devils may be showing up not with the traditional blue helmets but impersonating a city's own police force. It's criminal and it's treasonous," the report added.
Trudeau has been blasted by members of Parliament over his invoking the "Emergencies Act" to crack down on the anti-COVID-19 vaccine protest and has been criticized by civil libertarians in Europe and the United States as well, though not a peep of protest has come from the Biden regime, which is set to deal with its own trucker convoy later this week.
"The prime minister of Canada, the way he's behaving right now – he's exactly like a tyrant, like a dictator. He's like Ceau?escu in Romania," MEP Cristian Terhe?, of Romania, said during a speech to European Parliament in Brussels. "If you raise doubts about the vaccines, you're outcasted. What's the difference between what he does and what happened under The Inquisition?"
"On one side they say well we should not believe in God," Terhes continued, comparing the 12th century Catholic Church's effort to find and eliminate so-called heresy in Europe and the Americas. "But on the other, they say 'believe in science,'" he said of Western governments.
"We don't have to. Science is not about belief. Science is about measurements, conclusions, hypothesis and arguments," he added.
He went on to offer his support for the Canadian drivers.
"I hope this movement for freedom and for rights is spreading all around the world," he said. "Because at the end of the day, we have to make sure that those elected officials understand that they were elected into those offices for the people. Not to behave like masters of slaves."
Last week, Trudeau sparked outrage among members of Parliament when he responded to criticism from the chamber's only Jewish Conservative Party member by comparing the protestors to Nazis.
"If Canadians are going to trust their government, their government needs to trust Canadians," Lantsman said, in repeating Trudeau's words from 2015.
Lantsman then brought up how he recently labeled the protesters "very often misogynistic, racist, women-haters, science-deniers, the fringe."
"Same prime minister, six years later as he fans the flames of an unjustified national emergency," Lantsman said.
"When did the prime minister lose his way?" she asked.
"Conservative Party members can stand with people who wave swastikas, they can stand with people who wave the Confederate flag," Trudeau said, eliciting outraged responses from other members of parliament. "We will choose to stand with Canadians who deserve to be able to get to their jobs, to be able to get their lives back. These illegal protests need to stop, and they will."
Is the use of UN jackbooted thugs 'standing with Canadians?'
Sources include:
Submit a correction >>